We are proud to announce the addition of a triple stained adult Brain stack to VFB.
Earlier this year, Kei Ito and colleagues on the BrainName consortium published their long awaited new nomenclature for the insect Brain. VFB has followed the evolving BrainName nomenclature since its inception. We are now fully compliant with the published version and have added the gorgeous triple stained half brain shown in this paper to our hosted stacks. (The raw data for this stack is openly available on FlyBase (details and link here).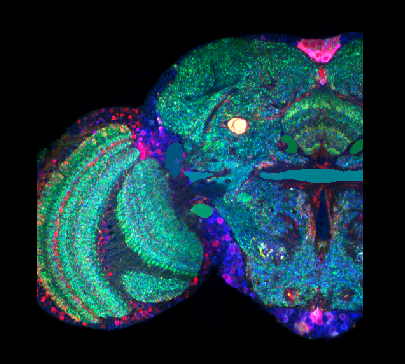 The detailed, painted mask on this stack includes major tracts such as the great commissure (blue, centre in the above image). We are working on adding a second mask with many more tracts marked. We are also planning to add linked thumbnails from term info to painted domains on both adult brain stacks.
In other news – usage of VFB continues to climb dramatically. We now get over 18,000 hits a month, with all of our many features getting significant usage.